Your Neighboring Food Co-ops:
Locally Owned by More Than
100,000 People Like You!
Co-op Day: Co-ops Ensure No One is Left Behind
International Co-op Day to Focus on Economic Inclusion
On Saturday, July 1st, Neighboring Food Co-ops across the Northeast will join co-ops around the world in celebrating International Co-op Day, joining the United Nations (UN) and the International Co-operative Alliance in a commemoration held annually since 1923.  This year, at a time of increasing economic inequality, co-ops and credit unions are highlighting how their businesses can offer a solution by contributing to economic inclusion and building community wealth.
"Co-op Day is an opportunity for co-ops and their members to look at how we contribute to international efforts to address economic inequality," said Bonnie Hudspeth, Member Programs Manager of the Neighboring Food Co-op Association (NFCA), a federation of more than 35 food co-ops across the Northeast, locally owned by more than 120,000 people from all walks of life. "When our needs are not being met – whether it's for things like food, credit, jobs, or insurance – co-ops offer a way for people to meet those needs, together."
The theme of inclusion builds on the UN's 2030 Agenda for Sustainable Development, which seeks to end poverty, fight inequality and injustice, and tackle climate change over the next fifteen years. As democratic, community-based businesses, co-ops have a unique role to play in these efforts.
Here in our region, food co-ops have been at the forefront of efforts to build a fair, just and sustainable economy. And over the past few years, co-ops have been working together to ensure that healthy food and co-op member-ownership are available to everyone. For example, the NFCA's Healthy Food Access Program provides tools and strategies for affordability, access to membership, and educational initiatives.
Observed internationally on the first Saturday in July, Co-op Day coincides with Independence Day celebrations here in the United States. Based on the principle of one member one vote, co-ops reflect American ideals of democracy, mutual self-help, and equality. Co-operative businesses have been part of American history from our beginnings and continue to play a key role in building vibrant local communities, creating good, sustainable jobs.
"As we celebrate Independence Day with July 4th parades, barbecues, and rallies, we may also want to consider the connections between economic democracy and a healthy political democracy, and our path as a nation," noted NFCA Executive Director Erbin Crowell in a recent article for Green Living.
More Co-op Day info:  http://ica.coop/en/media/library/pr-95th-international-co-operative-day
---

Thanks to CoBank for their support of our Neighboring Food Co-ops
---
Growing the Next Generation of Co-operators
Student Internships Spread Co-op Awareness 
Something unusual happened at the University of Massachusetts, Amherst, this Spring: three undergraduates presented on their internship experience with local food co-ops as part of a Certificate in Applied Research in Co-operative Enterprise.
From the time of the first successful co-ops in the 1800s, education has been recognized as central to the co-operative movement – empowering people to understand the world of economics and to take more control over their lives and build their communities through co-operation. Today, the 5th Principle of the Co-operative Identity reminds us to "inform the general public – particularly young people and opinion leaders – about the nature and benefits of co-operation."
The vast majority of institutions of higher learning in the U.S., however, pay little if any attention to the study of co-operative enterprise, despite the important role that co-ops play in the U.S. economy. Though an estimated 1 in 3 Americans are members of a co-op or credit union, few college students have the opportunity to learn about the business model as part of their studies.
For the past few years, the Neighboring Food Co-op Association (NFCA) and the Valley Alliance of Worker Co-ops have been working with the Department of Economics at UMASS Amherst to change this, developing courses on co-ops and creating a Certificate that not only offers students an opportunity for hands-on learning, but also enables co-ops to engage the next generation and explore new strategies for success.
"My time as an intern is an experience that I'll never forget," said Michael Lichtenstein, who worked with NFCA member start-up Amherst Food Co-op to explore how best practices recommended by Food Co-op Initiative's "Guide to Starting a Co-op" could support the success of start-up efforts. "I was able to, on one side, learn the best practices to launch a food co-op, and on the other, apply these practices to a real world start-up."
For their internships, Matt Desmond and Ryan Dwyer worked together on a project to help the NFCA update impact statistics for our region's food co-ops (see next story). "This internship has showed me that co-operatives do a lot to help their communities, and the co-ops and individuals powering them are truly dedicated to making a social difference in a world dominated by profit searching," said Matt. "I greatly appreciate this opportunity to learn new skills, develop as an individual, and work with an amazing group of people."
All three interns were able to attend the NFCA's Annual Meeting in March, where 150 leaders from co-ops across the Northeast gathered for a day of workshops and networking. "I was very surprised by how many different co-operatives came to the meeting. Some co-ops had traveled for hours to attend, and there was an excellent turnout," Matt continued. "The entire meeting was very indicative of co-operative principles; different businesses were conversing and talking about their goals, experiences, and strategies in the cooperative movement."
Students were particularly moved by keynote speaker Cornelius Blanding, Executive Director of the Federation of Southern Co-operatives. "Cornelius Blanding made a powerful speech about the role of co-operatives in the push for Civil Rights, Black land retention, and community empowerment," said Matt. "Mr. Blanding spoke about how it is possible, and how important it is, for the general population to own the means of production, such as farmland and factories, through co-operation."
"Before September I could not have told you what a co-operative was," said Ryan. "Moving forward, I will take all that I learned throughout this experience in the hopes I can do my part to help this co-operative movement grow and positively impact generations of Americans to come."
With the start of Summer, a new group of interns have already begun their projects, working with local co-ops to explore the co-operative movement in theory and in practice.
---
Thanks to Dorsey & Whitney LLP for their support of our Neighboring Food Co-ops.
---
Co-ops & the Collaborative Economy
Panel at Slow Living Summit Focuses on Co-opreneurship
At this year's Slow Living Summit in Brattleboro, VT, a standing room only crowd
gathered at Brattleboro Food Co-op's Community Room to hear General Manager Sabine Rhyne, Tony Risitano of Deep Root Organic Co-op, and Kristin Howard of Real Pickles share their thoughts on "Co-ops and the Collaborative Economy." The session, moderated by Neighboring Food Co-op Association Executive Director Erbin Crowell, focused on the the role that co-ops play in building more sustainable, resilient and participatory food systems and economies.
"This is a unique opportunity to hear from co-opreneurs across the food system and economy," said Crowell. "From a farmer co-op to a worker co-op, to the food co-op where we are gathered this morning, co-ops offer an effective tool for local economic development, community ownership and economic democracy."
The presentation included background on the co-operative business model and real-life examples for people interested in starting a new business, converting an existing business to co-op ownership, or learning more about alternative models for food system development.
"It's always great to connect with other co-op leaders," said Kristin Howard of Real Pickles. "I appreciated the opportunity to share our work, talk about issues we face as co-operative businesses, and continue to work together to support a vibrant, regional food system."
Slides from the presentation may be viewed online at https://nfca.coop/co-opfoodsystem
---
"Cave to Co-op" Local Artisan Cheese
June's Local Artisan Cheese: "Lake Street Colby"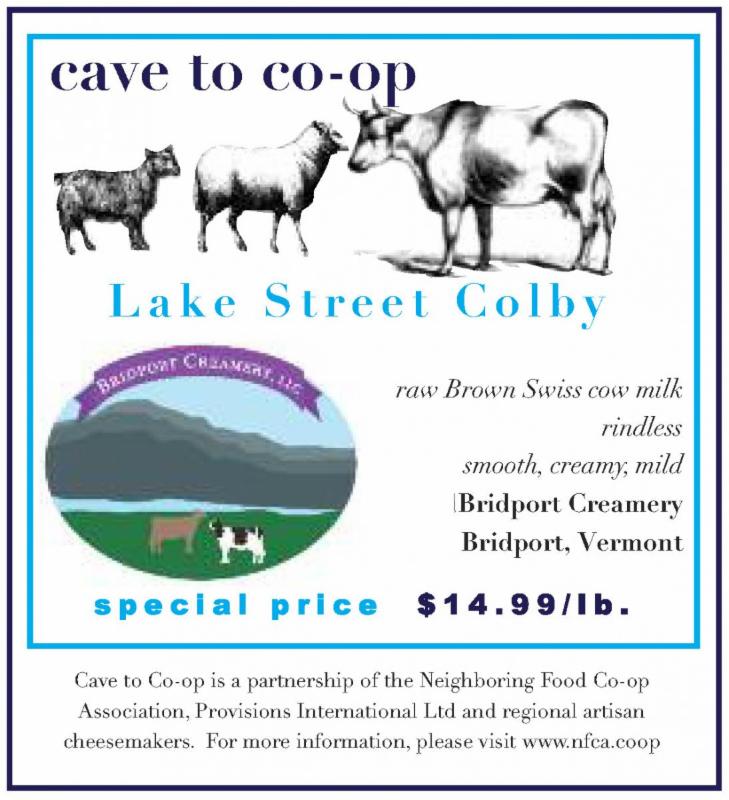 Have you noticed the "Cave to Co-op" signs in the cheese section of your local food co-op? 
The project is a partnership between Provisions International and the Neighboring Food Co-op Association (NFCA) to support artisanal cheese producers in our region and make their products more easily available to co-op shoppers. Each month, a delicious local cheese is featured at a great price.
Junes special cheese is Lake Street Colby from Bridport Creamery, Bridport, VT. This colby is a creamy, mild cheese that is a big family favorite. Children love its sweet and milky approachable flavor, and it's great in the kitchen as well.
Here are some recipes, from the simple to the sublime: https://nfca.coop/CaveToCo-opJune2017
For more information on the program, visit: www.nfca.coop/CaveToCo-op
---
New England Farmers Union
Making the Next Farm Bill Work for New England
Roger Noonan, President, New England Farmers Union (NEFU)
Making a living from the land often involves a certain sense of independence, which sometimes puts farmers at odds with government policy and regulation. While many producers participate in and benefit from government programs, some will grouse over the complexity, inflexibility and one size fits all approach of federal programs that often fail small and mid-sized operations.
Granted, many federal programs just don't fit us right, especially in New England. But government support can be like a raincoat: it's better to have one that's too big if you don't want to get wet.
Current US food policy had its roots in the 1930's when a combination of overproduction and unsustainable practices coupled with drought brought forth one of the greatest ecological disasters of the modern era: the Dust Bowl. At the same time, the United States entered the Great Depression, creating food insecurity for millions here and abroad. While our Agricultural policy has evolved over the past 80 years, for the most part the policies that make up the Farm Bill continue to address the three core challenges of natural resource stewardship, productivity, and assuring food security for our most vulnerable populations.
In 2018, the current Farm Bill will expire, and Congress – along with scores of lobbyists, special interests, and farm groups – is laying the foundation for negotiations. The Trump administration and his congressional allies have made it clear that the focus of the next Farm Bill should be on increased productivity and exports.
While that may be welcome news to a large corn or soybean farmer on the Great Plains, it offers little assurance to a small New England dairy farm, direct to market vegetable grower, or family fisherman. For our region, the possibility that even fewer federal resources will be allocated to the kinds of farms that sustain our traditional landscape, serve local markets, and support regional jobs and infrastructure is disconcerting. Add to this proposed cuts to USDA programs supporting rural and co-operative development, and there are grounds for great concern.
However, as a farmer I'm a realist and pragmatist – as a New England farmer, perhaps even more so. This will not be a Farm Bill to plow new ground on. But we do need to redouble our efforts to fence off those important gains we've made during the last few rounds of negotiation to assure that our region's farms can continue to be competitive and sustainable.
As I sit here with more layers on than I can recall for an early June morning, I am reminded of the issue of climate change and its impact on agriculture in the Northeast. Change is happening. Last year's drought exposed many holes in federal "safety net" programs, including crop insurance and disaster assistance that are authorized under the Farm Bill.  What impact would another catastrophic event like a Hurricane Irene or a full season drought have on New England's farm economy?
Cuts to conservation programs will dramatically reduce the resources available for our farmers to establish conservation practices that can make our farms more resilient to the impacts of climate change. Creating a safety net woven for New England farmers and their communities seems like a good place to start the conversation.
Coming up in August, New England Farmers Union will be working with farmers, food co-ops and other partners to host Farm Bill listening sessions across the region. We invite you to get involved in these important dialogs, and to renew your membership or join NEFU and help us strengthen the voice of our region's farmers, fishermen and consumers at this important time.
For more information, please visit www.newenglandfarmersunion.org.
*               *               *               *
The Neighboring Food Co-op Association (NFCA) is an affiliate member of the New England Farmers Union (NEFU), representing our commitment to collaboration among consumers and our region's family farmers and fishermen to influence food system policy and build a more vibrant, resilient and co-operative food system in New England. For more information on our partnership & how you can become a member, visit: www.newenglandfarmersunion.org/co-operation.
---
Co-op Calendar
For More Co-op & Food System Related Events, Visit: https://nfca.coop/calendar
JUNE
Jun 8-11, 2017
CCMA – The National Food Co-op Conference, Minneapolis, MN
JULY
Jul 1, 2017
International Day of Co-ops
Jul 18-22
Tour of the Co-operative Movement of Croatia
http://www.smu.ca/academics/sobey/cme-news-and-events.html 
AUGUST
Aug 11-13, 2017
Northeast Organic Farming Association (NOFA) Summer Conference
Hampshire College, MA
Co-op Track at the NOFA Summer Conference: https://nfca.coop/nofasummer2017
Aug 17-19, 2017
Federation of Southern Co-operatives 50th Annual Meeting, Birmingham & Epes, AL
SEPTEMBER
Sept 30 – Oct 1, 2017
Co-op Festival, National Mall, Washington, DC
OCTOBER IS CO-OP MONTH!
Oct 18-27
Tour of the Co-operative Movement of Mondragón, Spain
http://www.smu.ca/academics/sobey/cme-international-study-tour.html 
NOVEMBER
Nov 4, 2017
Co-op Cafe, Keene, NH (Co-Hosted by the NFCA)
http://www.cdsconsulting.coop/cooperative_governance/cooperative_cafe 
2018
March 18, 2018
Neighboring Food Co-op Association 7th Annual Meeting
---
The Neighboring Food Co-op Association (NFCA) is a co-operative federation of 35 food co-ops and start-up initiatives across New England, working together toward a shared vision of a thriving co-operative economy, rooted in a healthy, just, and sustainable food system and a vibrant community of  co-operative enterprise.