Your Neighboring Food Co-ops:
Locally Owned by More Than
100,000 People Like You!
Commit to Co-op Month!
October is Co-op Month
October is just around the corner, and your Neighboring Food Co-ops across the Northeast will be joining over 30,000 co-ops and credit unions across the United States in celebrating Co-op Month. For 2017, the National Cooperative Business Association CLUSA Internationalhas identified "Co-ops Commit" as a theme, highlighting the many ways that co-operatives are committed to their communities and enable people to work together to build a better world.
"Across our region, food co-ops demonstrate their commitment to their communities every day," said Erbin Crowell, Executive Director of the Neighboring Food Co-op Association (NFCA). "From offering healthy, affordable food and providing good jobs, growing local ownership and participation, and supporting local producers and Fair Trade, co-ops enable people to work together to build a better world for everyone."
The NFCA includes more than 35 food co-ops and start-up initiatives, locally owned by more than 130,000 people. Together, these co-ops employ over 2,000 people, generate revenues of more than $315 million, and purchase more than $60 million from local producers each year. A recent survey found that member food co-ops demonstrated their commitment to their communities in a wide variety of ways including programs supporting local producers, food security, sustainability, education for young people, and collaboration with local community organizations. (For a map of member food co-ops, visit www.nfca.coop/members.)
Co-operatives are businesses that are owned and governed by their members, the people who use the products and services they provide. From food co-ops to farmer co-ops, worker co-ops to credit unions, and housing co-ops to energy co-ops, co-operatives make a difference in people's lives every day. Co-ops are also more common than you might think: Here in the United States, 1 in 3 people are members of at least one co-op or credit union. Nationwide, co-operatives create 2.1 million jobs and generate more than $650 billion in sales and other revenue annually.
Learning more about some of the co-operatives in our food system is easy at your Neighboring Food Co-ops: just look for the "Go Co-op" signs on our shelves. You may be surprised to find so many items made by local co-operatives, including dairy products from Cabot Creamery Co-op and Organic Valley, fresh produce from Deep Root Organic Co-op, fairly traded coffee, tea and chocolate from Equal Exchange, beverages from Katalyst Kombucha and Green River Ambrosia, seeds and bulbs from FEDCO, naturally fermented vegetables from Real Pickles, Northeast Grown frozen fruits and vegetables from your Neighboring Food Co-ops – and many others.
How will your co-op celebrate Co-op Month? For ideas and resources, visit: www.ncfa.coop/Co-opMonth
---
Next Gen Co-operators  
Students Get Co-operative with Summer Internships 
This summer, three college undergraduates participated in internships with local co-ops as part of the UMASS Amherst Department of Economics Certificate in Applied Research on Co-operative Enterprise.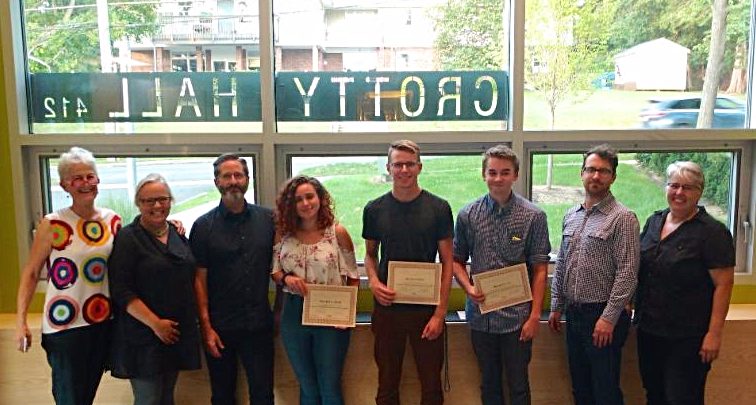 From the time of the first successful co-ops in the 1800s, education has been recognized as central to the co-operative movement – empowering people to understand the world of economics and to take more control over their lives and build their communities through co-operation. Today, the 5th Principle of the Co-operative Identity reminds co-ops to "inform the general public – particularly young people and opinion leaders – about the nature and benefits of co-operation."
The vast majority of institutions of higher learning in the U.S., however, pay little if any attention to the study of co-operative enterprise, despite the important role that co-ops play in the U.S. economy. Though an estimated 1 in 3 Americans are members of a co-operative, few college students have the opportunity to learn about the business model as part of their studies. Around the world, more than 1 billion people are members of co-ops – more than directly own stock in publicly traded corporations.
For the past few years, the Neighboring Food Co-op Association (NFCA) has been a partner in the UMass Co-operative Enterprise Collaboration, which includes the Valley Alliance of Worker Co-ops (VAWC) and the UMass Amherst Department of Economics, to develop courses on co-ops and a certificate that not only offers students an opportunity for hands-on learning, but also enables co-ops to engage the next generation and explore new strategies for success.
This summer, Eliya Hakim Moully interned with Pedal People, a worker co-op and member of VAWC that provides human powered delivery and yard maintenance services in the Northampton, MA, area. Eliya's goals were to experience work in a successful worker co-op and to help them think about how to improve communication and marketing strategies as they grow.
For his internship, Nicholas Monica worked with the NFCA to explore the role of community engagement strategies in supporting food co-op success in a competitive marketplace. "I appreciated the freedom to explore my personal interests in co-operatives during this internship," said Nicholas Monica.  "Through interviewing Neighboring Food Co-op staff and doing my own research, I gained a greater appreciation for the good things co-ops are doing in their communities."
Joe Chernak worked with NFCA member Leverett Village Co-op to collect and analyze information on the co-op's economic and environmental impact and how to use this data to engage members and shoppers in the success of their co-op. "My experience with the Leverett Village Co-op not only taught me a lot about what goes into a successful food co-op, but I also learned real world skills that I'll be able to use in the future," said Joe after his presentation.
The NFCA's work with the UMass Co-operative Enterprise Collaborative is part of the commitment of our co-ops to education and to engaging the next generation of co-operators in the success of our movement.
See photos of our super-star co-op interns: http://s.coop/umasscoopinternspresent2017
---
Co-ops Featured at NOFA Summer Conference 
Fourth "Co-op Track" at the NOFA Summer Conference
The Neighboring Food Co-op Association (NFCA) was proud to sponsor a special track of workshops and presentations on "Co-operatives in the Food System" at the 43rd Annual NOFA Summer Conference which took place August 11-13, 2017 at Hampshire College in Amherst, MA. 
The NFCA worked for the fourth year in a row with partner organizations to organize a special series of workshops on co-operatives and their contribution to regional food systems and economies at the annual NOFA Summer Conference.
Workshops at the 2017 conference addressed a variety of ways in which co-operative enterprises contribute to more sustainable local food systems through a range of topics, from food safety rules for small producers and co-ops to practical steps for farmers interested in forming co-ops and business owners considering converting their enterprise to a co-operative, to strategies for using the co-op model to address food insecurity. The sessions, organized in collaboration with the Brattleboro Food Co-op, Cooperative Fund of New England, the New England Farmers Union, Project Bread, Real Pickles Co-op, the Valley Alliance of Worker Co-ops, and Visionaries Public Television Series included:
Who Gets to Eat? Co-ops Addressing Food Justice 
Food Safety Rules for Small Producers & Co-ops 
Co-ops & Economic Democracy: Why Go Co-op? 
"In the Spirit of Co-operation": Video & Discussion
Check out slides from these co-op presentations: https://nfca.coop/nofasummerpresentations2017
Didn't get to the conference this year?  See who was there, co-oping it up! http://s.coop/nofasummercooptrack2017
---

Thanks to CoBank for their support of our Neighboring Food Co-ops
---
"Cave to Co-op" Local Artisan Cheese
September's Local Artisan Cheese: "Très Bonne"
Have you noticed the "Cave to Co-op" signs in the cheese section of your local food co-op? 
The project is a partnership between Provisions International and the Neighboring Food Co-op Association (NFCA) to support artisanal cheese producers in our region and make their products more easily available to co-op shoppers. Each month, a delicious local cheese is featured at a great price.
September's special cheese is "Très Bonne" from Boston Post Dairy, Enosburg Falls, VT.  Très Bonne is French for 'very good,' and it is!  A pasteurized goal milk cheese, Très Bonne is aged 2 to 5 months and has a fresh, mild, nutty flavor. A favorite with the entire family!
Try it out in these recipes: https://nfca.coop/CaveToCo-opSeptember2017
For more information on the program, visit: www.nfca.coop/CaveToCo-op
---
Thanks to Dorsey & Whitney LLP for their support of our Neighboring Food Co-ops.
---
New England Farmers Union 
Organic Family Farmers Deserve Strong Standards and Enforcement 
WASHINGTON – The American family farmers and ranchers who grow and raise organic foods and goods for our nation adhere to strict standards – set by the
National Organic Program under guidance of the National Organic Standards Board (NOSB) – that protect the integrity of the industry. So when major producers and importers of organic products fail to comply with these standards, it puts organic family farmers and ranchers at a major disadvantage.
National Farmers Union (NFU) President Roger Johnson highlighted the importance of strong U.S. Department of Agriculture (USDA) enforcement of the NOSB standards in a letter to Agriculture Secretary Sonny Perdue today.
"While the U.S. farm economy continues to cause stress in rural America, one bright spot remains: organic agriculture," said Johnson. "Critical to the success of organic family farming is the integrity of the organic seal. Recently, the integrity of the organic label has been publicly challenged."
Johnson pointed to two major examples of behavior that has challenged the integrity of the organic label. The first addressed longstanding concerns that the nation's largest organic milk producer, Aurora Organic Dairy, has not complied with the Organic Access to Pasture rule.
"This rule attempted to create consistency across the standards applied to organic dairy operations both out of fairness to the organic producers and transparency to consumers," said Johnson. "Unfortunately, a rule or regulation is only as good as its enforcement.  In this instance, enforcement of the regulations for the largest organic milk producer failed. This is harmful not only to the reputation of the organic program, but also to the farmers who played by the rules."
Johnson also cited recent imports of corn and soybeans from Eastern Europe that were fraudulently labeled "organic."
"U.S. farmers have entered into organic production to capture added value on their farms using a management-intensive method of production," he said. "The fraudulent imports caused a drastic reduction in prices of organic grain and caused consumers to have suspicion in the veracity of the program. U.S. farmers cannot compete with these unfair trade practices."
Johnson recognized the challenges facing USDA's National Organic Program and it's ability to police the industry. Organic agriculture has exploded in popularity in recent years, and additional resources for auditing and enforcement have not been made available.
"However, NFU urges USDA to act swiftly and decisively to address both of these issues," said Johnson. "Family farmers and ranchers depend on USDA and the accredited certifying agents to enforce the organic program's rigorous, NOSB-driven standards. NFU stands ready to assist USDA in maintaining the strong standards and enforcement associated with the National Organic Program."
For more information on our New England chapter of the Farmers Union, visit: www.newenglandfarmersunion.org.
*               *               *               *
The Neighboring Food Co-op Association (NFCA) is an affiliate member of the New England Farmers Union (NEFU), representing our commitment to collaboration among consumers and our region's family farmers and fishermen to influence food system policy and build a more vibrant, resilient and co-operative food system in New England. For more information on our partnership & how you can become a member, visit: www.newenglandfarmersunion.org/co-operation.
---
Co-op Calendar
For More Co-op & Food System Related Events, Visit: https://nfca.coop/calendar
SEPTEMBER
Sept 28, 2017
People, Planet, Prosperity: Co-ops & Sustainable Development
Ontario Provincial Co-op Conference, Toronto, Ontario, Canada
Sept 30 – Oct 1, 2017
Co-op Festival, National Mall, Washington, DC
OCTOBER IS CO-OP MONTH!
Oct 4-6
2017 Co-op IMPACT Conference, Alexandria, VA
Oct 18-27
Tour of the Co-operative Movement of Mondragón, Spain
http://www.smu.ca/academics/sobey/cme-international-study-tour.html 
Oct 21-22
Localize It: What Resilience Looks Like Conference, South Royalton
https://balevt.org/localize-it-what-resilience-looks-like/ 
NOVEMBER
Nov 4, 2017
Co-op Cafe, Keene, NH (Co-Hosted by the NFCA)
http://www.cdsconsulting.coop/cooperative_governance/cooperative_cafe 
Nov 10-12, 2017
North American Students of Co-operation (NASCO) Annual Institute
Ann Arbor, MI
2018
March 18, 2018
Neighboring Food Co-op Association 7th Annual Meeting
---
The Neighboring Food Co-op Association (NFCA) is a co-operative federation of 35 food co-ops and start-up initiatives across New England, working together toward a shared vision of a thriving co-operative economy, rooted in a healthy, just, and sustainable food system and a vibrant community of  co-operative enterprise.